Ellie + Jim: January 18th, 2014
We hired Christy to be the photographer at our wedding. She really did a fantastic job. She was very helpful, reliable, and professional throughout the entire process, and the pictures turned out to be exactly what we were hoping for. We couldn't be any happier! We highly recommend Fretless Photography.
Marie + Bill: September 14th, 2013
Christy from Fretless Photography was our photographer for our engagement session and wedding in the Mystic area. Neither my husband nor I are particularly fond of having our picture taken, but Christy managed to make us feel comfortable AND she made us look good! She was incredibly professional, but still flexible and affordable. She is very good at personalizing experiences based on your priorities and adapting to the chaotic madness known as "the big day." Most importantly, the pictures were fantastic!
Kitty + Brian: August 30th, 2013
Christy was fantastic to work with for our wedding photos. She has a great eye for getting the right shot and got us our photos in just a few days! Christy was reliable, responsive, and fun to work with. My husband and I hate having our pictures taken but Christy made it fun and she was not intrusive at all. I've gotten so many compliments on our photos. I highly recommend Christy if you want a reliable, professional photographer. Her prices are extremely reasonable and her turn around time is amazing! We will definitely be using her again!
Rebecca: August 2013
We hired Christy to take photos of our six month old daughter recently, and the photos we received a few days later were absolutely gorgeous! Christy's instincts for how to get the best composition were so on point, and on top of that, she just captured our daughter's beautiful personality so well. She spent two hours (and multiple outfits) with us. What a difference from going to a portrait studio in a store and getting only your allotted 15 minutes– and for a price that was just as affordable! I am in love with these pictures, and I hope we can hire Christy many more times for more photos of our daughter! We very highly recommend Fretless Photography!
Andrea: December 2012 through March 2013
Christy, of Fretless, was outstanding to work with on the youth talent show I help coordinate. She was professional, quick on providing the photos after the sessions, and showed great technical skill in a low-lighting setting that absolutely showed in the quality of the end result. We were very grateful to have her expertise as a part of our production.
Ted + Kate: July 21st, 2012
My wife and I were extremely satisfied with our wedding photos. Christy was professional, versatile, and extremely helpful throughout all our planning, for engagement photos, and the wedding photos. We strongly recommend Fretless Photography for anyone who wants a photographer with a strong dedication to their clients, and a superb eye for finding great shots.
Christy Wright: The Photographer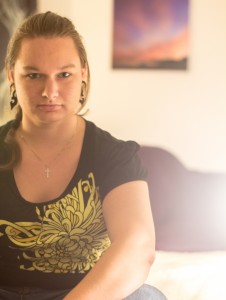 Christy began exploring her medium in 2007 at Ledyard High School when she worked on yearbook staff as the senior editor. While she enjoyed photography at the time, it wasn't until 2009 when her love for this art form reached new heights. Early that year, with her camera close to her heart, she participated in a mission trip to Honduras and El Salvador. She was swept away, and her passion for photojournalism resulted in a drive to create art with purpose.
Since her trip abroad, Christy earned her BA in Interdisciplinary Arts from Eckerd College in 2011 with concentrations in photography, graphic design, and theatre. After being asked to photograph a friend's wedding, she officially opened the doors of Fretless Photography in January of 2012. Her candid and truthful style captures the most genuine of emotions as she seeks to portray the subject's identity through a photograph. With a unique artistic perspective, she has drawn great interest with brides, theatre companies, and event planners.